HKI Premium 444C Air Compressor
Regular price
$191.94
Sale price
$159.95
Unit price
per
GET TODAY'S DISCOUNT
SOLD OUT
THE BEST AIR COMPRESSOR IN THE WORLD
A new concept in air compressor, now with the HKI PREMIUM compressor you have efficiency and agility in a single product. Operating at 12V voltage, it is connected to your compressor using the car battery.
Compressor is an essential component for an air suspension kit. It fills the reservoir with compressed air that is used to inflate each air bag in the vehicle.
Premium 444C is a truly-rated continuous duty, 12-volt, 200 PSI compressor.
The quality of the compressor will be fundamental to make all the components of the Air Suspension works properly, and you can reach this level of consistent with our Premium 444 HKI.
By the way, it's more compact, silent and stable quality. Be sure that you use the best, be sure that you use HKI. Bring it on! 

SPECIFICATIONS
- Electric motors with direct drive (without gearbox)
- High performance piston rings and heat head reinforcement
- Performance-oriented compressor design and head heat dissipation
- High performance air filters (10 micron filtration)
- Pressed hose with stainless steel mesh
- High performance check valve
- Feet reinforced with vibration insulators
- Designed to work without oil, maintenance free (except air filter inspection)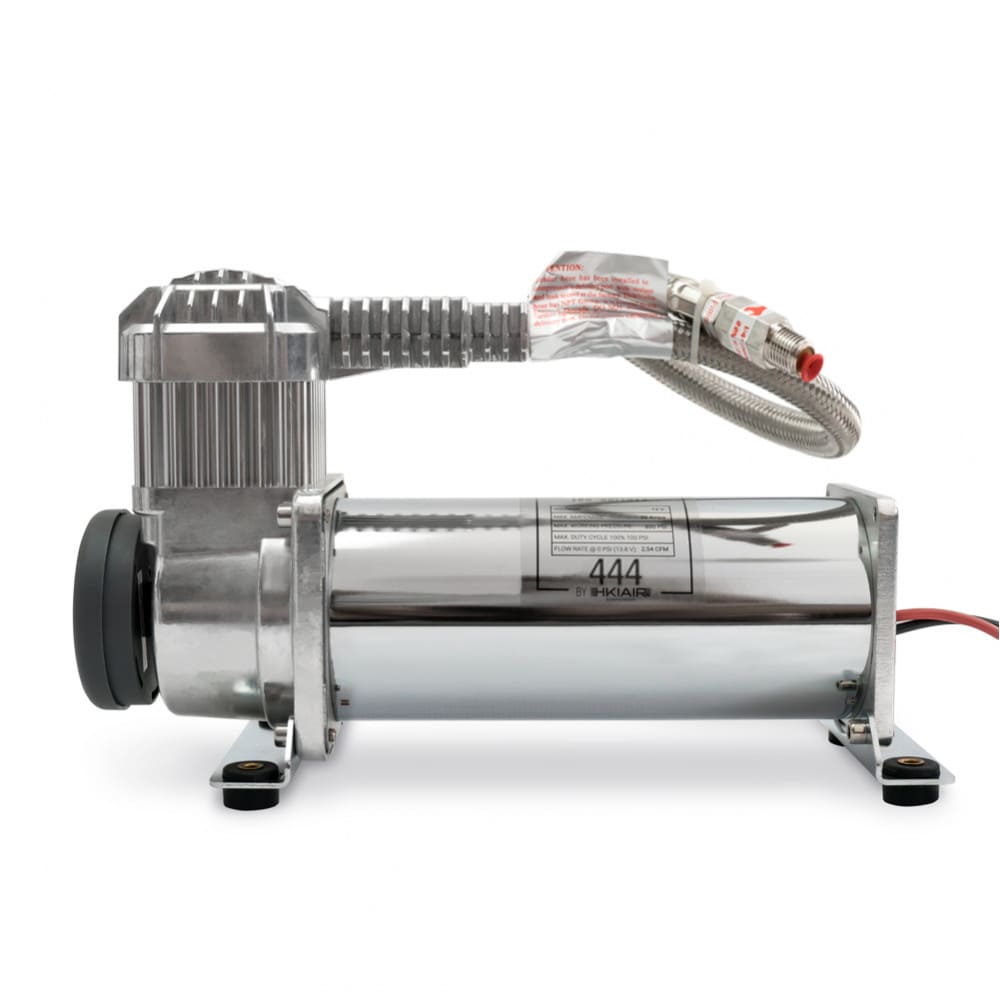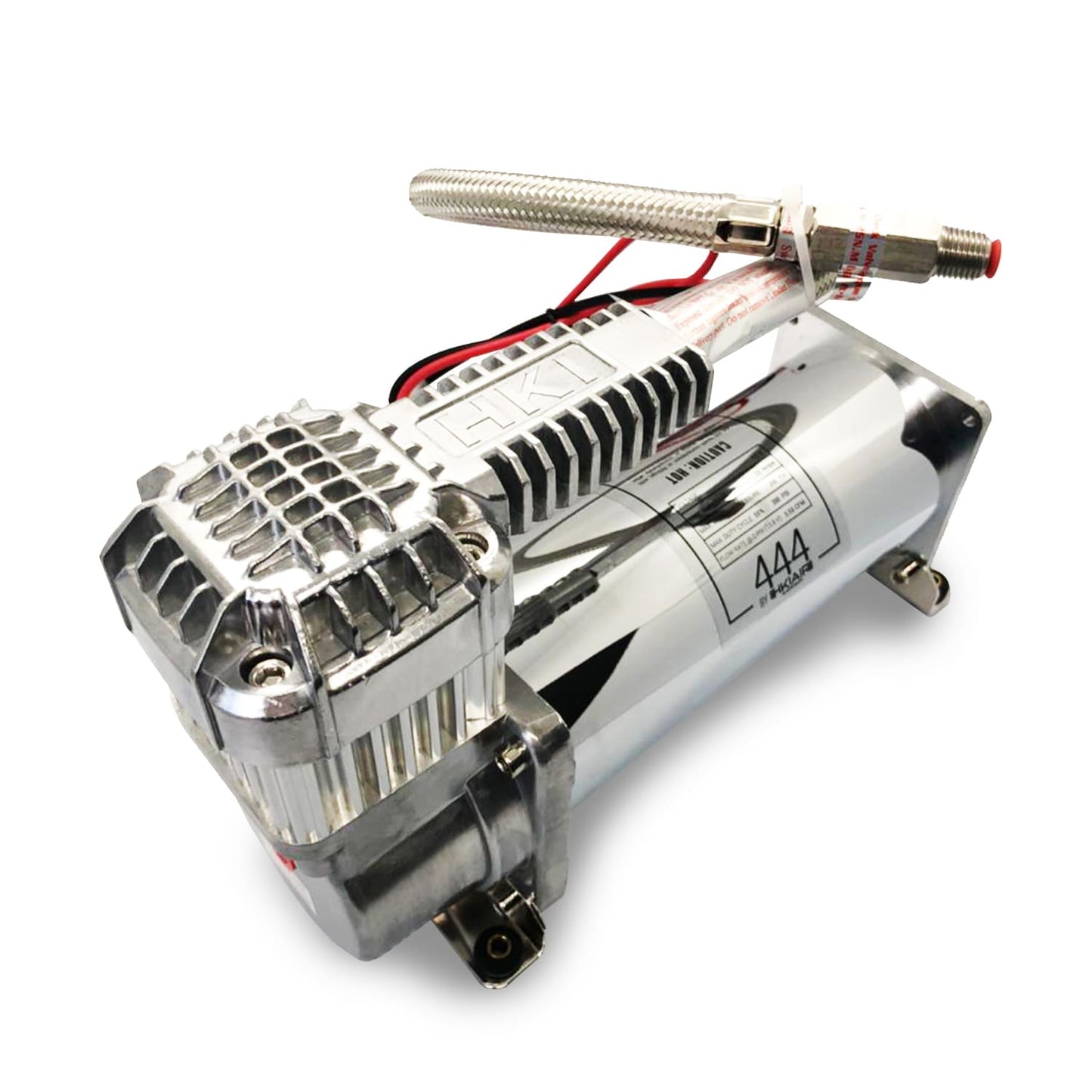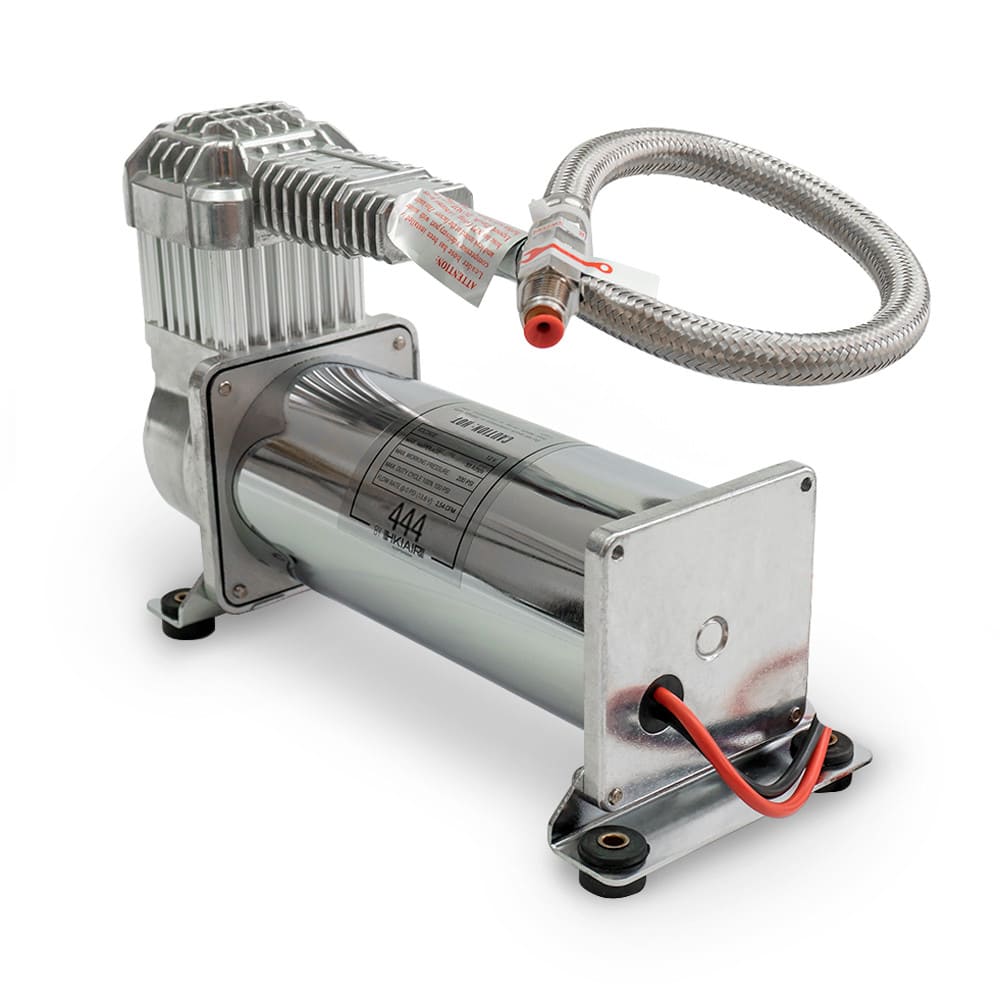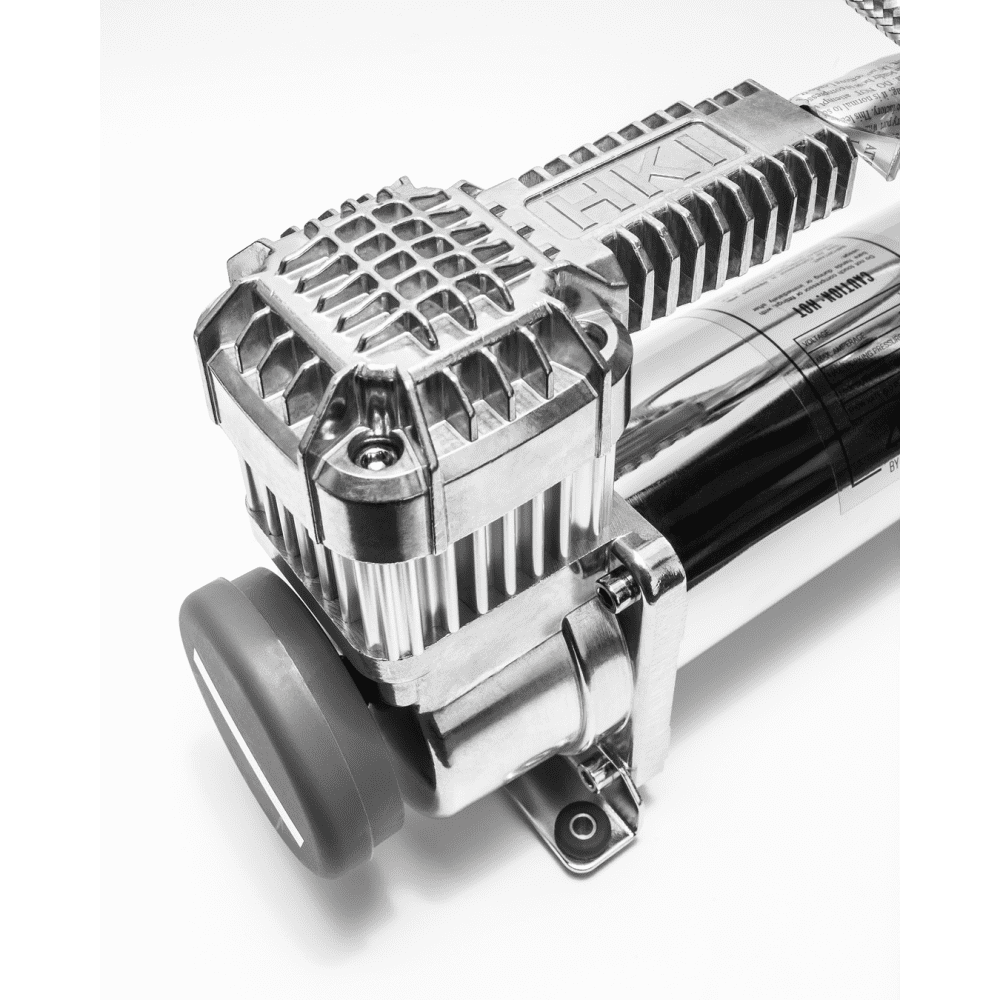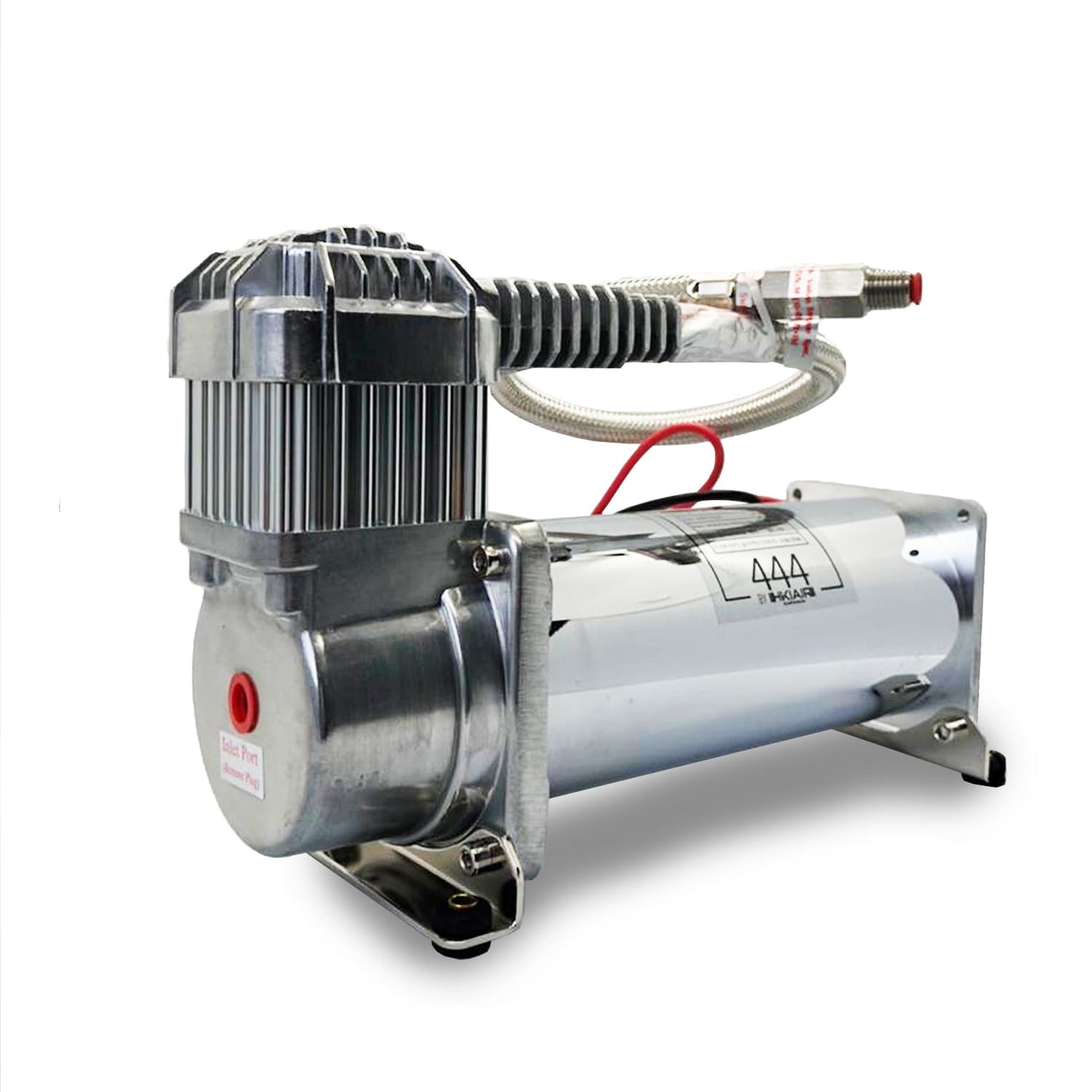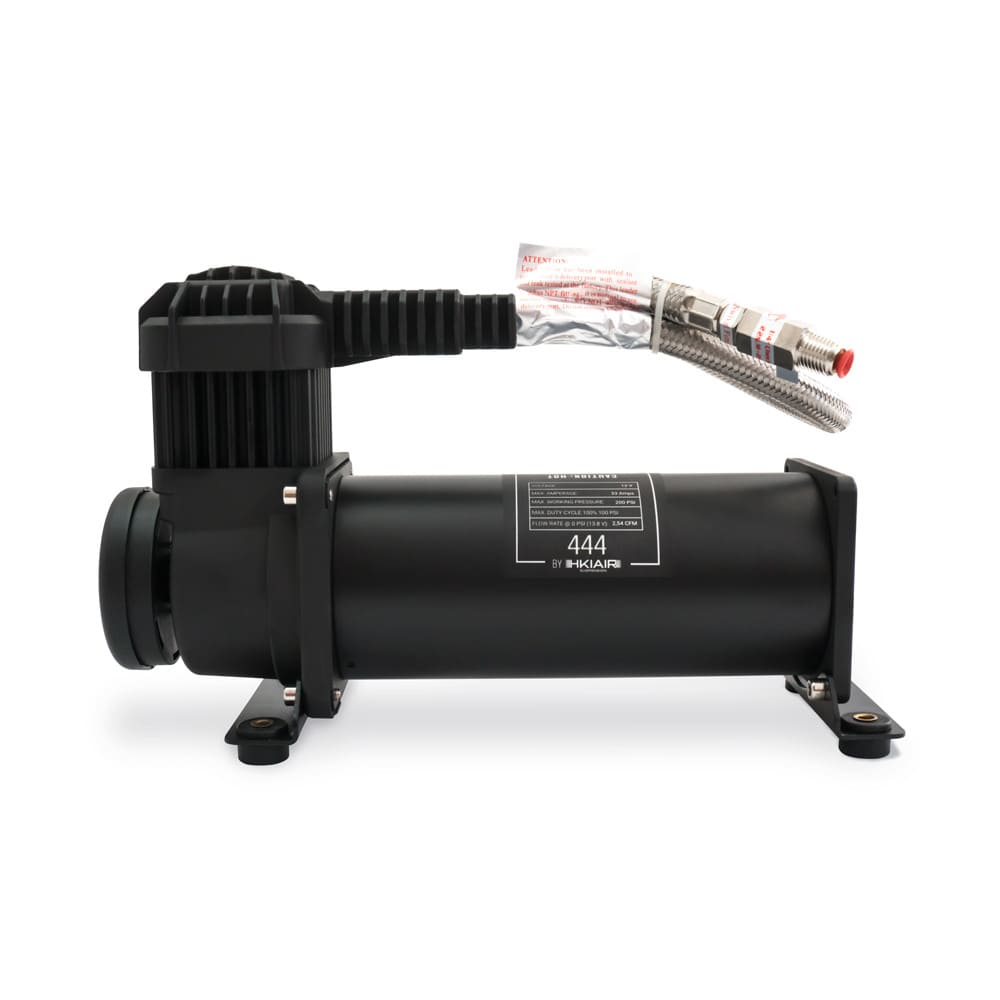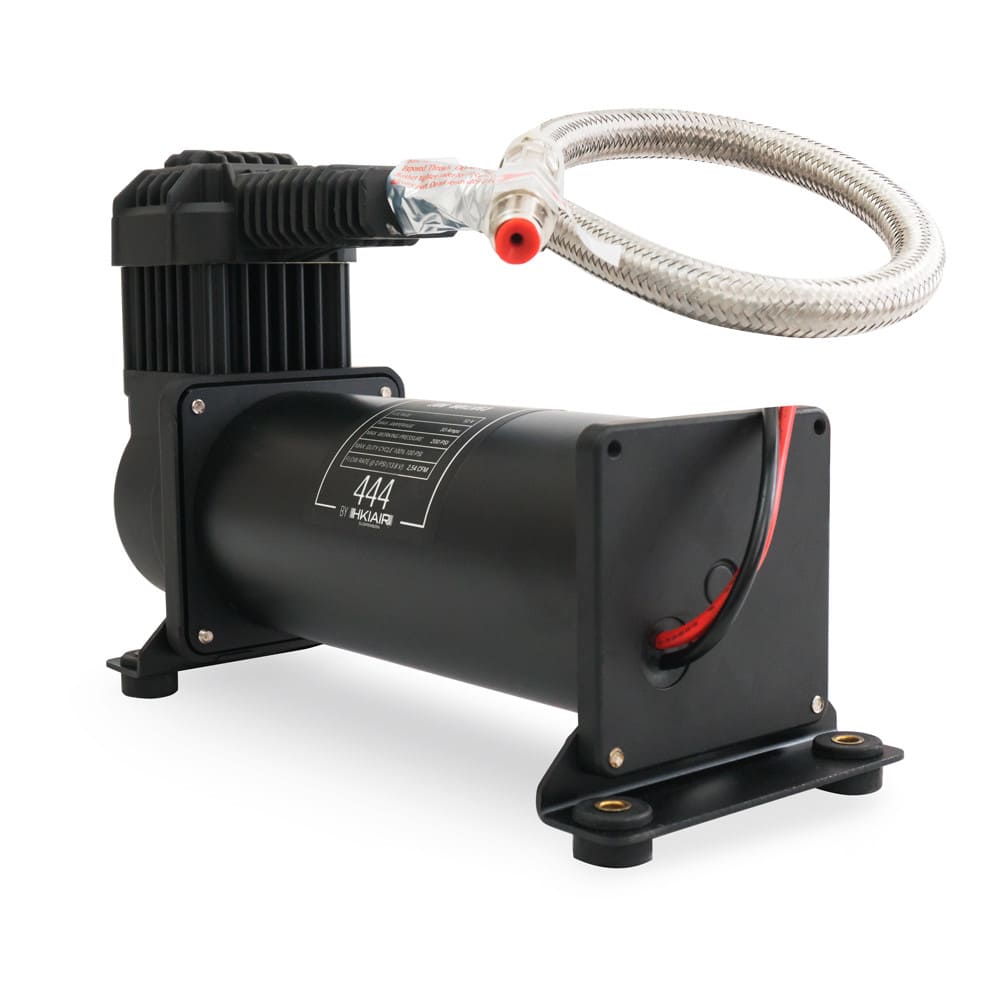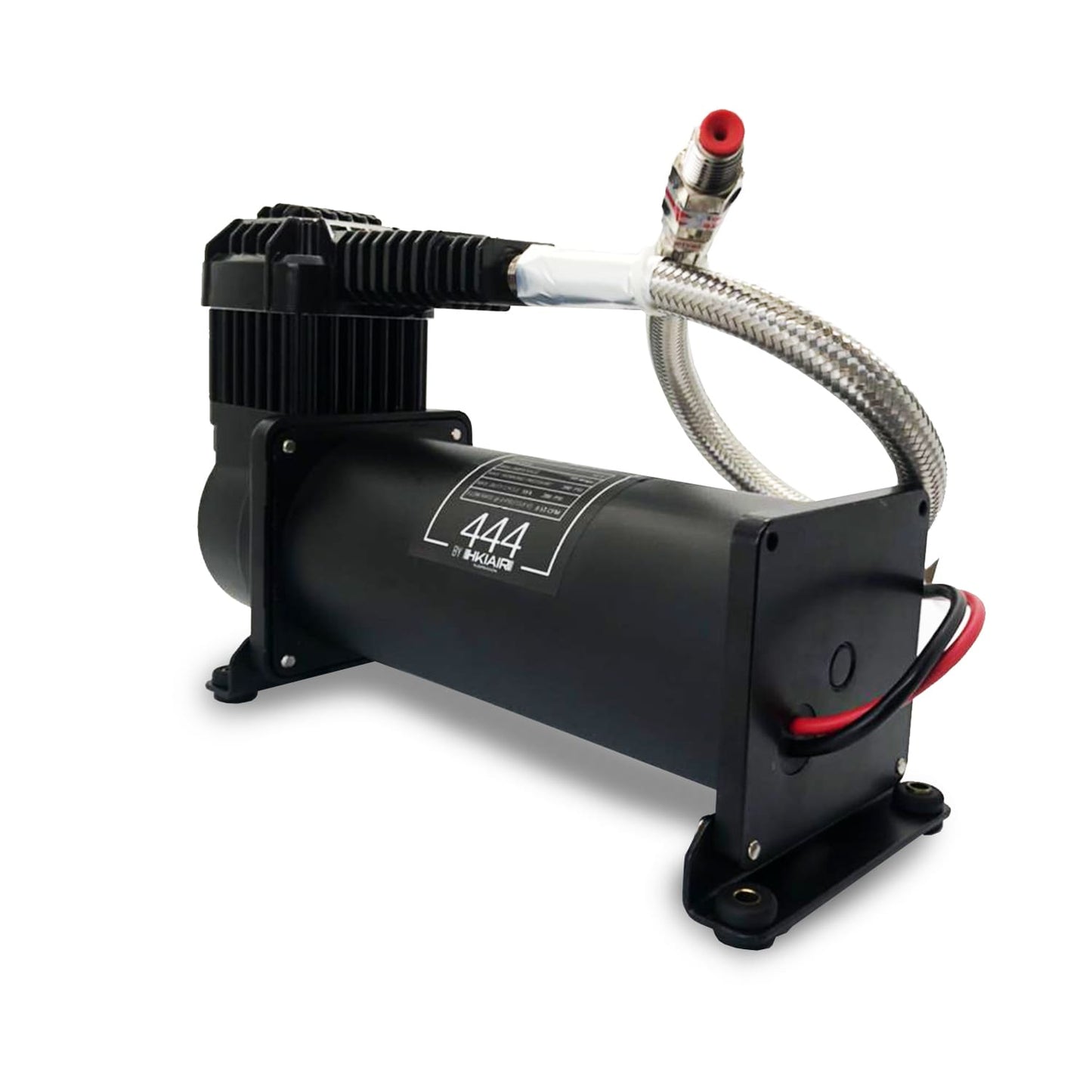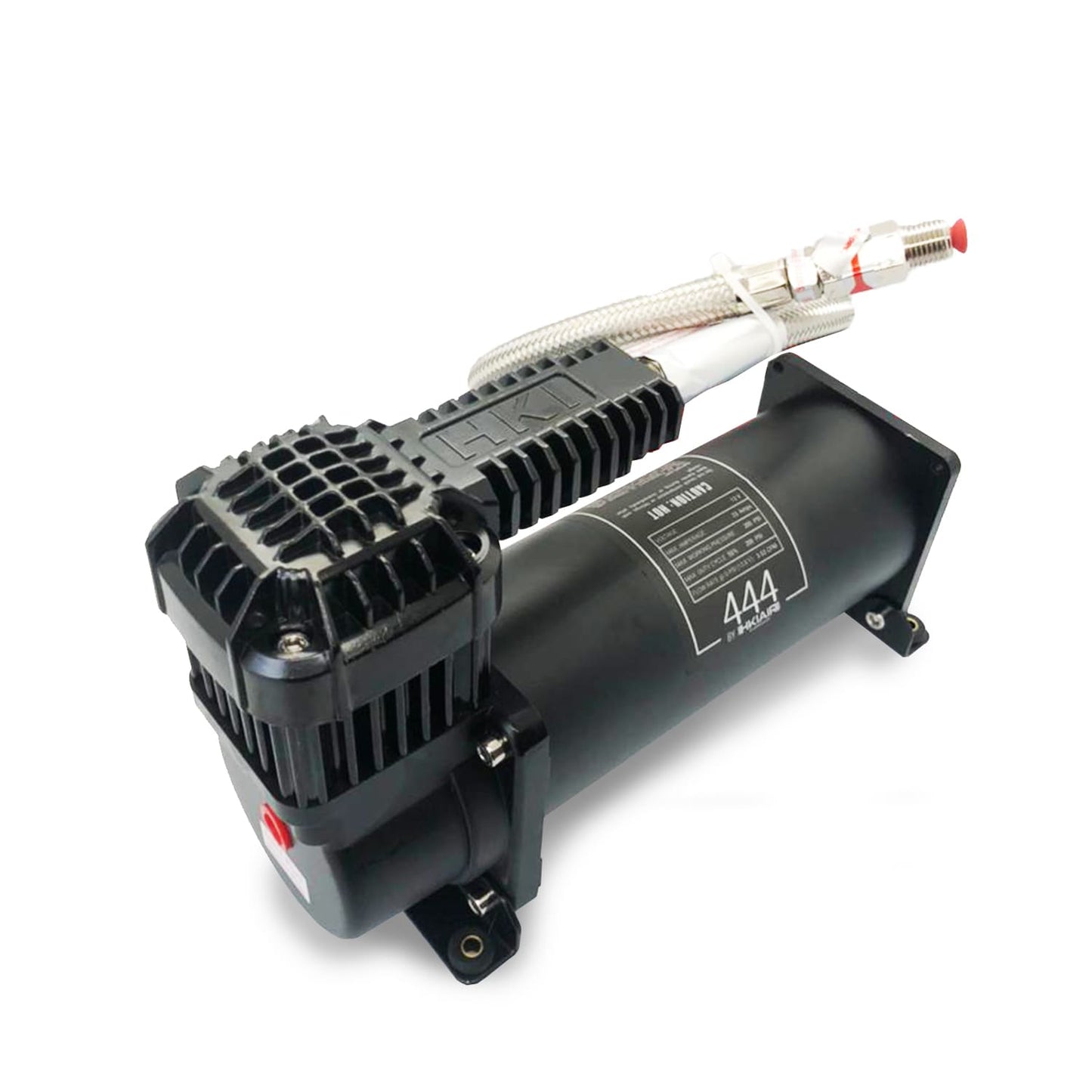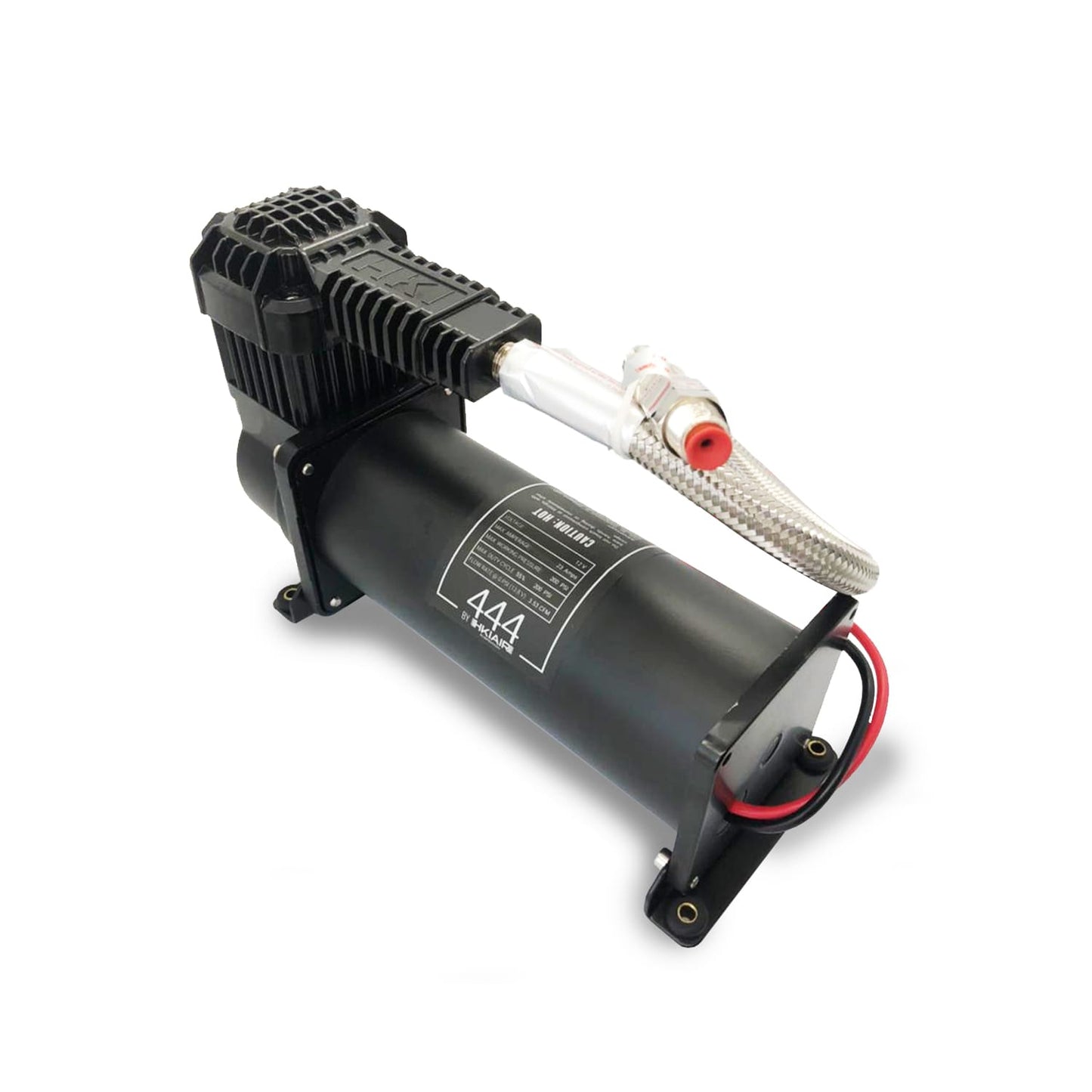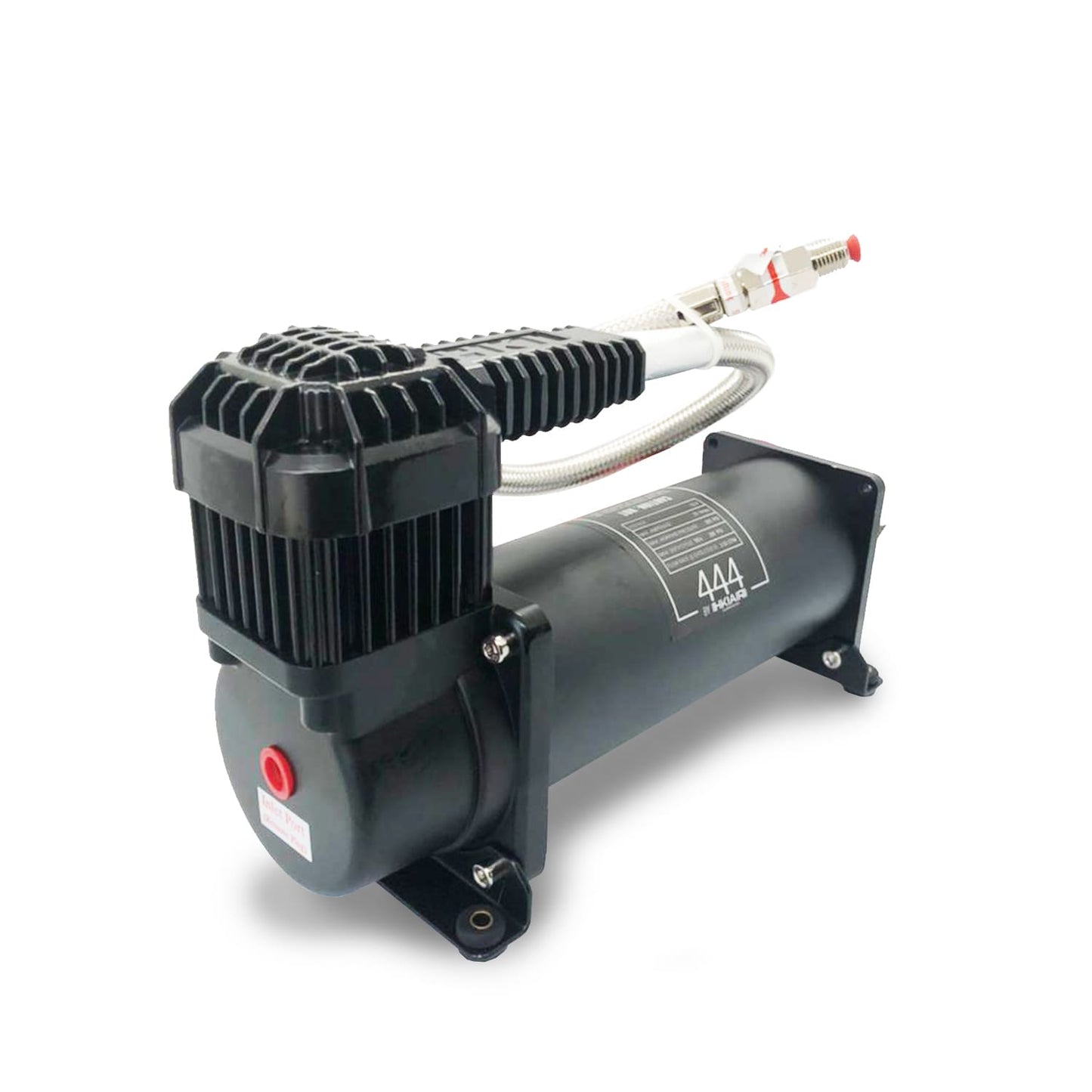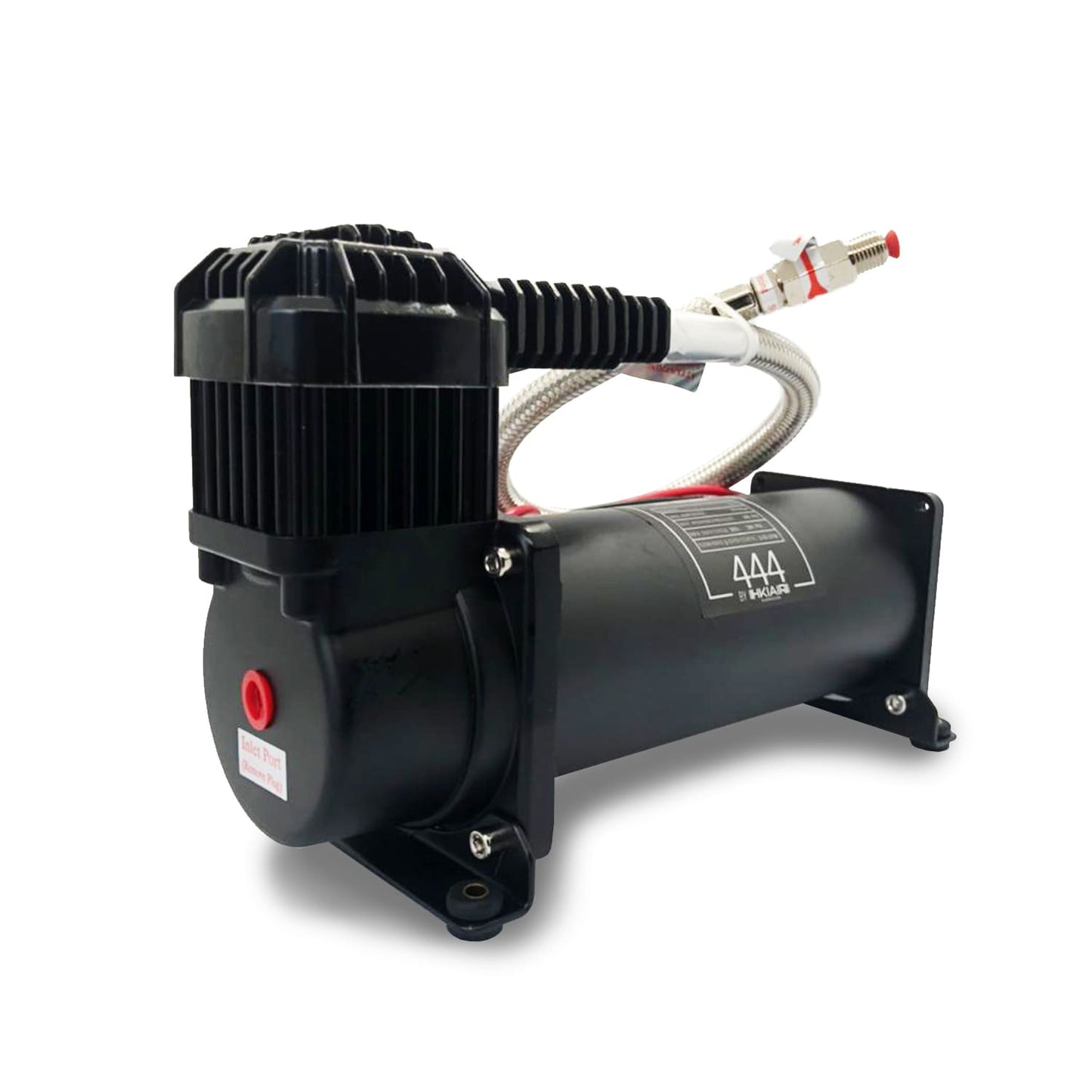 UNIVERSAL PLUG & PLAY PRODUCTS

Our products have a universal fit, which allows them to be used in different vehicle models, giving up part of the necessary adaptations in any project.

PREMIUM AIR SUSPENSION PRODUCTS WITH LOW COST

We strike a balance between making a premium product on the market and being able to provide an affordable price to our customers.

UPDATED INSTALLATION GUIDES AND MANUALS

Each of our products has operating guides and installation manuals, to make your life even easier when using it in your project.
Being a HKI Air Suspension costumer means to be part of our 4W Method
It's part of our HKI 100% satisfaction guarantee (who doesn't love that!?)
WORLDWIDE Shipping

FAST Shipping to All 7 Corners of the World.

WORLDWIDE Warranty

FREE 30 Day Warranty, no Hassle Returns for All USA Orders.

WORLDWIDE Specialist Support

Get Help from Our Experts by Send Us a Email or WhatsApp Message.

WORLDWIDE Premium Quality

Over 100.000 Satisfied Customers and 45.000+ 5 Star Reviews Around the World.
Why HKI Air Suspension?
Our team is trained and qualified to serve resellers and consumers in the entire world.
We seek, above all, that our customers have a new concept of experience with HKI automotive products.
FAQ
Shipping Info

CONDITIONS AND SHIPPING POLICY FOR INTERNATIONAL SHIPMENTS

The payment of duties and taxes are responsibility of the receiver on the international shippings, for all countries excluding USA. The Shipping cost is calculated at checkout.
Do I have any Warranty?

Yes, we pride ourselves on having the best Warranty and Support ("Customer Satisfaction") on the market!

You have our HKI Air Suspension 100% Satisfaction Guarantee:

✅ Receive your product within the stipulated time, or get your money back.

✅ If you want to change the color or size, just send us an email and we will quickly make the changes for you.
What is the deadline?

The deadline depends on your location and varies according to each product, stock and logistics.
How do I Track My Order?

Once your order is dispatched, we will send the tracking code to your email, just click on the link and check it out.
Is it safe to buy from HKI Air Suspension?

Yes, we have years of experience in online commerce and we use the best security technologies to ensure your privacy and peace of mind.

We use "https" technology and your purchase is encrypted (secret), carried out through the most reliable systems, such as PayPal, or using the payment method you want.
DON'T WAIT!
Due to high demand we often sell out. If you have any further questions, please email us at socialhkiairsuspension@gmail.com